Do you need to Install Commercial HVAC Systems at your Office?
If you are in search of commercial AC installation and heating systems for your office building but really are not sure which unit would be best for your office building, do not worry.
Usually, there are many options when it comes to commercial HVAC systems to install in your office building. You may opt to go with energy efficient convectional split systems, water-cooled geothermal pumps, rooftop units along with many more.
In this article today, we will go over the best commercial air conditioning systems and heating units you can install in your office building to help with energy costs and to produce better air quality.
For a better understanding of how commercial rooftop units work, take the time to watch the following video:
5 Best Commercial Air Conditioner & Heating Systems Today
1. Carrier WeatherExpert & WeatherMaster Packaged HVAC Systems
The WeatherExpert HVAC systems usually come with electric and gas heat cooling systems. The WeatherMaster systems are normally high-quality heat pump systems. These two systems normally come in 3 to 23-ton capacity. They are eco-friendly In that they have a Puron R-410 refrigerant.
These systems are very efficient and have IEER ratings all the way up to 21 to meet Energy Star and CEE Tier 2 levels, and this helps a lot in ensuring that they are producing LEED credits for optimum efficiency. The components of these systems are usually factory charged and tested.
This unit is engineered for some simple and basic installation work. It is worth noting that it can easily be changed during installation from either horizontal flow to downflow. The systems filters and controls are actually easy to access and the screws of this system normally hold firm.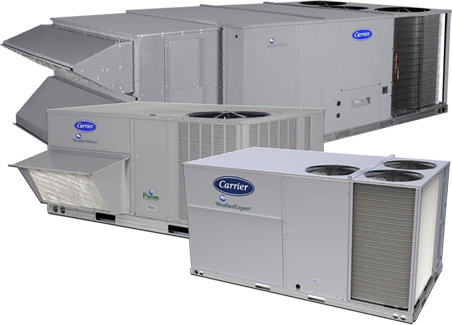 Both systems are able to provide a three-stage cooling, in conjunction with many other incredible features for enhanced climate control and comfort. Actually, there are more than 20 factory options that are available to customize the unit to suit your needs perfectly.
The WeatherMaster heat pump systems normally use WeatherExpert technology to serve all the heating and cooling needs. One thing you should note is that there is no gas furnace in this series. The air conditioner performance is usually reversed in winter to be able to pull heat from outside and bring it into the working spaces or the house.
The WeatherMaster heat pump systems are also designed for regions that experience mild winters which the WeatherExpert is normally designed to suit areas that experience really cold climates. These systems will suit an office very well and make the working conditions ideal even when the weather conditions are at their extreme.
2. The Daikin Air Source VRV Heat Pump System
One should be aware that currently, the VRV system has been completely revamped to bring in the seventh generation of this incredible model. It now comes with an incredible inverter compressor system which normally enhances the performance, comfort, and efficiency of this system.
It also comes with a capacity that ranges well from 6 to 12 indoor units all the way to 30 tons which have as many as 62 units of the indoor. This system can actually be utilized using one, two or even three compressors and this will depend on the total capacity your system can hold.
The good thing about this system is that it comes with a wide range of options. This is incredible since one can mount it in the roof, on the wall or on the floor. The place you choose to mount will depend on the application.
3. Lennox Strategos
Actually, this unit comes in two different versions. There is the electric heat pump designed to effectively heat and cool and there is also the heat with electric air conditioner. This system comes with a SEER rating of about 16.1 and this is really good for units that are packaged.
Something good about this unit is that it is actually Energy star-rated. Both of these versions of the model are readily available in a range of tons. They include 24-ton 10, 20, 3 ton, and models. These units come with some incredible filter driers which play the role of protecting the system from moisture and dirt.
They also have internal pressure switches which are very useful and ensure the unit runs smoothly without a problem. The unit also has an optional economizer which is important for reduced energy use. This unit is normally built in a way that it is easily installed.
This unit usually comes with an independent motor mount, it also has a full-perimeter base rail, a hinged access panel, and an isolated compressor compartment. Additionally, during installation or maintenance, a GFCI 115V outlet is usually included conveniently. It has a prodigy controller which is very effective and easy to use.
The Lennox Strategos unit is incredible for it can be used with a total of four compressors if staged heating and cooling are required. This system will be ideal for use in an office building in ensuring that the working conditions are ideal.
4. Daikin McQuay Water Source Heat Pumps
This is a commercial HVAC system that will be convenient for use in office buildings, large homes, healthcare facilities, apartments, condos, and even schools. Actually, there are SmartSource single-stage and two-stage vertical and horizontal units that have a range of 0.5 all the way up to 10 tons.
The vertical units actually go all the way up to 25 tons. You should know that the largest units are actually the curb-mounted models or the rooftop which range somewhere between 12 to 35-ton incapacity. Additionally, the floor-mounted systems have a capacity of up to 35 tons.
The Daikin McQuay system is seen by many people as the global leader in HVAC innovation matters. These units are known to be very efficient and come with outstanding durability. This unit is ideal for any kind of office building.
5. Goodman GSZ Commercial Heat Pump Split System
This system is ideal in small commercial buildings because of its durability attribute. This system is a budget brand that offers units of great quality and some incredible warranties. This system is simply incredible in that it delivers 13 SEER cooling. It comes with a 5-year warranty which is way better than the industry average.
The system is eco-friendly in that it uses an R-410A refrigerant. It also has a low-pressure switch which effectively protects the system from compression function. It also comes with an efficient scroll compressor. This system is actually available in 3 to 5-ton capacity.
Actually, the Goodman GSZ11 Series commercial heat pump is an 11 SEER model that comes in different sizes from 7.5 to 10 tons. This is one of the best rated commercial HVAC systems.
Conclusion
You now know the 5 best commercial AC system and heating units to have installed if you are a business owner to ensure the comfort of both your building and your employees. If you are interested in more information regarding air conditioning installation services as well as how to find the best HVAC installation, repair, and maintenance companies in your area, be sure to take some time to read the following related articles.

Related Articles:
Find Limit Switch Furnace Repair Problems & Solutions
Find The Best Wilmington NC HVAC Repair Companies
Find The Best HVAC Companies To Replace Heat Pumps
Find Cheap & Best Central Air Conditioner Repair Near Me
Top 5 HVAC Replacement Companies In Wilmington, NC