Do you know how to properly inspect Used Cars before buying them?
If you are looking for cheap cars used to buy in your area you truly need to know how to inspect each car before you make that final decision to purchase it. Yes, this is even true if you are looking to buy a fancy car like a used Mercedes Benz with leather seats and alloy wheels. Just because you find a luxury used car for sale does not automatically mean it is in the best condition to buy.

Lucky for you, in today's article, we are going to teach you exactly how to properly inspect a used car before buying it for the exterior, technical and mechanical problems. You will also learn the importance of a test drive before you decide to make your certified pre-owned car purchase.
For more information on why you should always get a used car inspection, please be sure to watch the following video:
So with no more delays, let's get started learning how to properly inspect any new or used car before you decide to buy it from a local car dealership or the previous owner.
How To Properly Inspect Used Cars Before Buying
Many individuals are normally looking for a used car to buy because they come at a relatively friendly price. It is very important to know some technical knowledge about cars before buying any used car or even a new car. The discussion below describes how to properly inspect cheap used cars for any damages or mechanical issues before you decide to buy them
1. Take a good view of the vehicle exterior and look for tail tell signs for damage paint and deeply embedded scratches. If the paint is new, ask when the car was painted last. Take notice and Beware of fixer-uppers, this is tactical that some dealers use to fix up a used car adding cheap new details and a fix-up to hide paint job. This practice often distracts used car buyers from larger problems such as underlying rust that will occur in the future.
2. View the back of the vehicle and check the bumper including the front as you make your way around to that area. Check the wheels for dents. Then keenly look through the automobile to see and note if there is any sign of rust. 
Most importantly always remember to do a thorough check on the cars under part for any hidden problems. Also look for dimples in the paint, dents, scuffs in the paint job.
3. Inspect both sides of the car including under beneath the vehicle for any signs of more major body repair. Check if there are other issues such as side panels, door hedges as well as fenders. They may give you a clue about the vehicle's real condition.
4. Check the vehicle's tires well. Check for any issues like cupping, wearing out of edges, feathering and more.
Also, make sure that the wheels are not pointed in an inward position indicating an alignment problem. Check to see if the vehicle is at the manufacturer recommended tire pressure levels to ensure safe driving.
5. Open the door, check the interior for tears in upholstery, sun damage and general appearance. Make sure that all important things that you will need while driving a vehicle work properly like for instance headlights, bright lights, turn signals, backstop lights, reverse lights, park lights, emergency lights. Ensure that you have checked basic automobile issues such as the lights, radio, odometer, gas meter, windshield wipers and many other.
6. One important thing you should also do is lift the hood. Look at the engine and see if it's tidy. Look for signs of wear and tear on components especially the timing belt and the drive belt and other belts may vary by vehicles.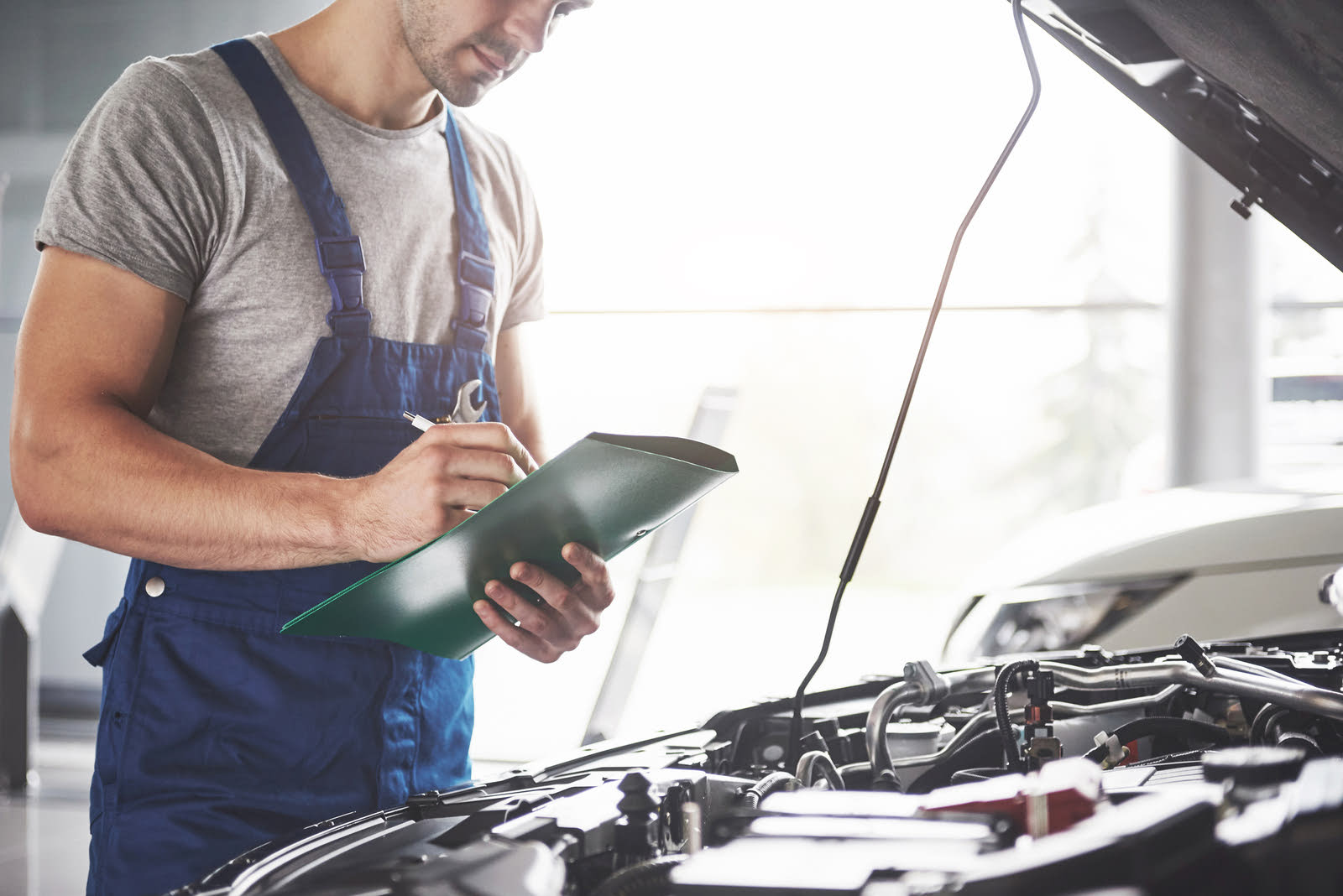 Make sure that the battery cables and connectors are not worn down or the battery itself is in good running condition. Inspect the engine for any signs of leaking oil around the valve cover and head gasket that may be coming from the engine. Check all attached holes for signs of busting, wear and tear and damage. Inspect underneath the vehicle to see is there any rusted out holes in the exhaust pipe manifold and muffler.
7. Check the oil. The oil level should be in between the two-level marks. If you find it below the bottom level mark then this could mean an oil leak or the engine is in a critical need for oil. 
Also, look to see has it been changed recently by looking for a smooth texture yellow-brown of color. You will definitely know that the vehicle needs a maintenance oil change if the oil comes out looking burnt dark black. Next, place your hands on the dipstick by rubbing it against your thumb.
If you feel small particles in the oil, By chance the engine may be worn or damaged causing you costly repair problems.
8. Next test the car transmission for slippage. For automatic transmissions, hold down the brake pedal set the emergency brake, and shift through the gears to see if they easily fall in place. 
For Manual transmission, Set the emergency brake, depress the clutch pedal and shift through the gears to see if they easily fall in place while shifting. Also if the vehicle has a manual transmission listen out for any grinding sounds that may be coming from the transmission. Here are more signs to look out for while testing the vehicle for slippage.
4 Signs Transmission Is Slipping:
If you find out that there is a delay when shifting gears, there could be an issue with the transmission channels
If on changing from a neutral or park position to the drive or reverse gear, the car does not immediately catch the gear and move forward or backward, then it could mean a problem in the transmission. For instance, if you change gears and get a sound like clunking, shuddering or jolting, and also find out that the shifting of gears is not smooth, the vehicle's gearbox could be having an issue.
If you find out that the vehicle's rpm engine is increasing but there is no increase in speed, it could mean the transmission is really slipping.
If the automobile begins producing a lot of noise, the gearbox could be having an issue
9. Many of the automatic vehicles have automatic transmitter systems and therefore you will be required to check the OD light that normally signals if there is an underlying issue on the engine. You will need to have the vehicle inspected or diagnose if you can't understand the instrument's problem code.
10. Startup the engine. It should practically start up immediately. Listen closely for accurate start-up ability and listen out for any sound of engine knocking or any other irregularities sounds that you do not normally hear when starting up a car. Be sure to ask questions about any sounds you are not familiar with to the car salesman.
Also, check to see that there or not any engine indicator lights that come on after starting up the engine.
11. Next, take the car for a test drive. Check the brakes at normal driving traffic conditions. They shouldn't squeal and should bring the car to a stop in a short sufficiently distance. Make sure you do not have to press the brake pedal all the way down to come at a complete stop. 
This is a good sign that the vehicle may have worn down brakes pads or even a serious brake problem.
12. One Golden Rule: is to ask to see a record of the vehicle maintenance and car report. Look to see that the car had regular oil changes and checkups. Also, inquire about additional work that may have been done on the vehicle and ask to see receipts.
Conclusion:
Now that you have all the proper information on how to properly inspect cheap used automobiles or even expensive used cars for sale before you buy them, you should never walk away with a lemon car again.
If you are still in search of some more information on how to find the best used cars for sale in your area or how to find the best car dealers that have them for sale, be sure to take some time and read the following related articles.
Related Articles:
Finding The Best For Sale Used Car By Owner To Buy
Get The Best Deals At Used Car Lots Near You
Find Used Car Dealers Near Me With The Best Auto Deals
Find The Best Car Dealers In Columbia, SC With Auto Trader
Find The Best Car Dealerships Near Me For Oil Changes
How To Find The Best Car Sales In Columbia, SC
How Local Buy Here Pay Here Car Lots Operate
How To Find The Best Car Lots & Deals
Tips On How To Find Quality Used Cars For Sale
How To Find The Best Used Cars For Sale Near You
The Best Automobile Group In South Carolina